Employing a jewelry store web designer at a substantial cost and then letting your website rot in the doldrums of obscurity is a waste of money and time.
Your jewelry store website designer should be a "jack of all trades" and endeavor to guide you through the maze of Google search engines.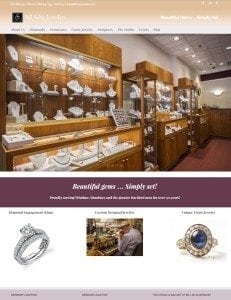 The jewelry store website designer you commission should have the experience and expertise to ensure that every required prop is provided to support the website in achieving a high Search Engine Optimization (SEO) ranking at all times.
Tardiness in SEO can prevent you from being found. That is where my company, 4SpotMarketing.com, brings a new dimension into how an enthusiastic, dedicated, experienced and versatile jewelry store website designer can change your perspective and ensure you become a very successful jeweler.
Mastering SEO
Mastering SEO is not a one-time effort; it is an ongoing strategy and must be relentlessly pursued 24/7, 365 days of the year. It needs professional inputs.
A high ranking on the Google SEO platform will give you high priority; if your jewelry store website designer has supported it well, you will be on the first page of a customer's search. That is where you should be if you want to be noticed and if your prospective customers are to engage with you.
The search engines of Google do not go to sleep; hence, you can't either. However, if you execute the right tenor and pitch, helped by an experienced jewelry store website designer , you can have peaceful sleep and your website will always be active doing just what it is supposed to do.
How 4SpotMarketing.com can serve you
My team of professionals will endeavor to ensure that all the required challenges are met as far as exposure of your business on the Google search engines is concerned.
We offer a FREE website analysis to see how your website is faring on the Google search engines and we suggest ways to improve performance. We talk about how as an experienced jewelry store website designer we can turn the tables and provide you with a new strategy for standing out prominently on the search engines through effective Search Engine Marketing (SEM) strategies.
My team can also bring a new dimension to your jewelry store marketing by introducing you to the intricate details of how an effective digital marketing strategy can be initiated. We can also introduce you to more effective jewelry store advertising that could bring in better results.
As your own versatile and experienced jewelry store website designer, we can provide you with FREE website search results so you will know who your potential customers are.
Employing Keap Max Classic (formerly Infusionsoft by Keap) systems, I can streamline your complete marketing and CRM processes and make them work better for you. This would mean that I do not confine myself to the role of jewelry store website designer but will go that extra mile to ensure your success.
I will offer you a complete turnkey possibility and not just a one-time package deal as a jewelry store website designer.
Check out here to get more information about Jewelry Store Web Development
Our more related services are:
Jewelry Store Web Design , Jewelry Store Website Builder , Jewelry Store Web Developer , SEO For Jewelry Stores , Google SEO For Jewelry Stores, SEO Services For Jewelry Stores, SEO Company For Jewelry Stores, Search Engine Marketing For Jewelry Stores