As more and more businesses move towards e-commerce, having the right jewelry website design can have a serious effect on sales. Consumers are looking for sites that are responsive to their needs, while also providing an interesting and informative browsing experience. Studies show that a consumer who is not automatically drawn to a website will usually not bother with returning.
Jewelry Website Design
These days, a jeweler's website is their calling card, it is the first exposure that a potential customer will receive to the goods and services that they offer. Unless you can hook these potential clients immediately, they will simply decide to take their online search elsewhere.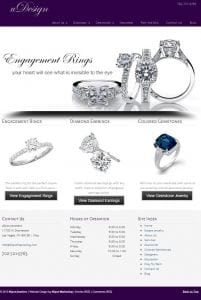 When jewelry website design is not up to par, this causes bad word of mouth. Marketing for jewelers is incredibly important and it is what separates the great from the merely decent. In a world where everyone has a smartphone attached to their hand at all times, word spreads faster than ever.
It takes months to come up with a jewelry website design and it only takes minutes for word to spread that your design is not responsive or helpful to the consumer. Conversely, jewelry marketing is made much easier by a website that has been designed in the proper manner.
While negative word of mouth spreads quickly and can drive sales figures into the red, positive word of mouth also moves just as quickly and can be the catalyst for a rapid sales improvement. For example, a jeweler may decide to slash their prices and offer a limited time only price break to their most loyal and dedicated clientele.
With a jewelry website design that is top notch and provides an easy to locate area where a person can sign up to receive updates, it is much easier for a jewelry store to contact them quickly and save money on an expensive television ad campaign.
The most crucial element when it comes to jewelry website design is search engine optimization. Without it, you could be creating a great website that is seen by absolutely no one. Even the best website design is meaningless if it has not been optimized for optimal search engine placement. If the consumer cannot find your website, then what good can it be?
If you are struggling to harness the awesome power of the Internet to draw more attention to your business, then it's time to reconsider the effectiveness of your jewelry marketing plans. In order to learn more about your website and its ability to help attract new customers, be sure to ask for a free ranking analysis. This will show you the areas where your website could use improvement and the areas where you are strongest.
Visit Here to get more information Website Design For Smoke Shops