There are thousands of website design firms in this country, and a select handful that specialize in the jewelry industry.  We are able to perform search engine optimization services for all of these sites.
Here is an example of the SEO success that we've had with a website that was designed in WordPress.  We were able to gain huge jumps in the Google search ranks within just a few weeks by optimizing the WordPress platform and deploying our SEO techniques.
SEO Success with an Existing WordPress Website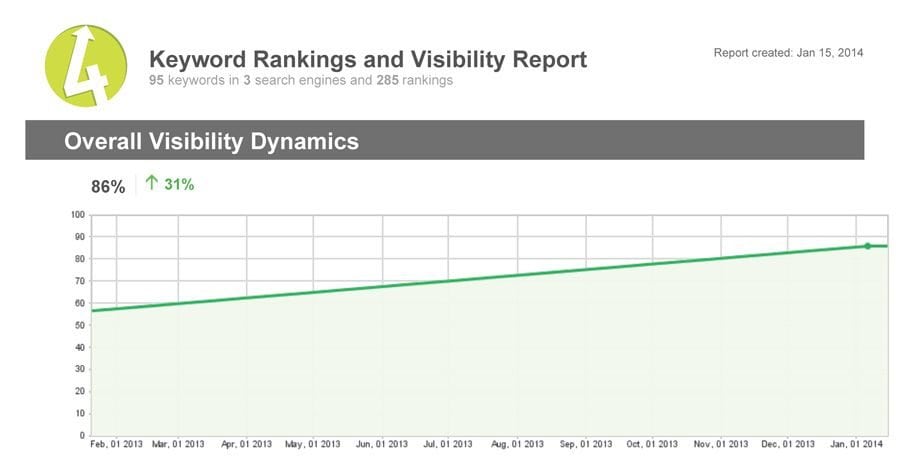 In the image above, you can see that with the 'out of the box' WordPress website their web presence was just over 50% (which is better than the standard Punchmark or HTML websites, by the way).  In just a few short weeks, by tweaking the WordPress back-end and deploying our SEO techniques, we got them up to a very solid 86% presence (that means that just abut 9 out of every 10 people searching for jewelry in their area saw them)!  The image below shows how successful our SEO services were for specific rank factors.
RANKING UPDATE: Two weeks after this posting their Google visibility was at 93%

The image above shows how many search terms we were able to get into the various rankings.
We obtained #1 rankings for OVER HALF of the terms that we tracked and top 10 rankings for nearly 2/3 of the terms.
All of this happened within a time frame just a few weeks.
If you interested in having us provide you with a FREE, no-obligation ranking report to show how you rank in your local area, please complete the quick form below.
Free Website Analysis
[contact-form-7 id="283″ title="Free Consultation"]