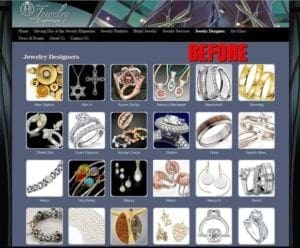 You may have unique modern-designed jewelry for sale in a store artistically created with an elegant ambience, offering great value for the money and with a long tradition in jewelry craftsmanship. However, even with all these attributes if you cannot be found by thousands of discerning potential clients, everything you have done to sell your jewelry will be in vain. Alternatively, you could have a unique jewelry store web design that will bring you profitable results.
Finding help
This is precisely how I can help you help yourself. My professional team at 4SpotMarketing.com has mastered the art of bringing small jewelry stores just like yours to where everyone today turns for their jewelry shopping: a unique jewelry store web design. An online shopping platform!
Get a colorful and unique jewelry store web design that shows the world what masterpieces you have to offer.
The time constraints that prospective customers are experiencing today have pushed them to do their shopping for jewelry online. To sell to them when they search for your jewelry, your store must be found, and found fast with the right jewelry store web design.
Professional Jewelry Store website
My experienced team can create a jewelry store web design just for you and bring you where you can be found with just a few clicks on your potential customer's mobile smart phone, tablet or other device.
My jewelry store web design team has created masterpieces for numerous jewelry store owners and will gladly help you, too, bring out the best of what you can offer your customers, wherever they may be.
How can you be found?
When a prospective customer is looking for a piece of jewelry, it is imperative that you be the first jewelry store web design seen on the first search page; this is universally called SEO or Search Engine Optimization.
If your SEO is handled by professionals like us, you should be on the first page of your customer's mobile or other screen because research shows that 53% of jewelry store web design engagement with customers is on the first page.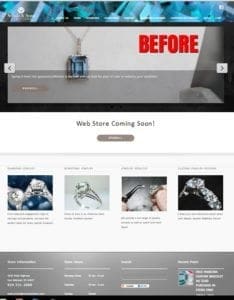 Jewelry Websites that Engage Customers
If your jewelry store marketing is limited to the traditional methods, you may have a major problem, as we are in the 21st century when billions of dollars of jewelry are sold online.
To sell your jewelry more effectively and profitably you may have to change the way you handle your jewelry store advertising and just like your jewelry, you too might need to modernize and join the 21st century.
Responsive Jewelry Websites
An attractive jewelry store web design coupled with aggressive SEO will put you on the road to success with profitability. My company, 4SpotMarketing.com, can be the force behind you.
Allow me to show you what a good jewelry store web design with aggressive SEO can do for your jewelry store.
Discover more here to get information about Jewelry Store Website Builder.
Our more related services are:
Jewelry Store Web Designer , Jewelry Store Web Development , Jewelry Store Web Developer , SEO For Jewelry Stores , Google SEO For Jewelry Stores, SEO Services For Jewelry Stores, SEO Company For Jewelry Stores, Search Engine Marketing For Jewelry Stores