Here is one more success story for a new website that we launched last week.  In just one week, the website has jumped straight to the top of Google.
We doubled the visibility of the site.
We got 35 new #1 rankings.
We got 41 phrases into the Top 3.
We got 28 phrases onto the first page.
Of the 57 phrases we tracked — 57 went up and 0 went down!
Jewelry Website SEO
We are experts at jewelry industry SEO — helping jewelry stores get to the top of the Google search results pages — so we have built our jewelry websites from the ground up to be Google-friendly.  Here are the results from this site — after just one week of being live.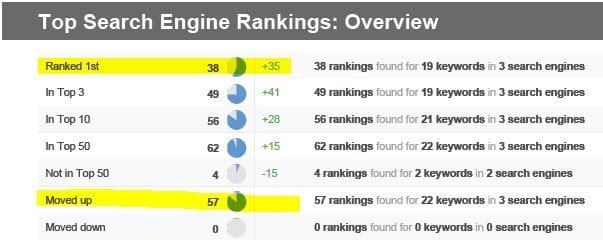 Best Jewelry Website Design
Our jewelry website design is the best around.  We make your website work for you by getting you to the top of the search results – where the traffic is!
Look at all the new #1 rankings for this freshly-launched site.
All of this came simply by launching one of our new, Google-optimized, mobile-friendly websites.
If you are want to dominate your local search results by having a rock-solid, Google-optimized website, fill out the quick form below and someone will contact you promptly.