Better Visibility, Better Results
Attract more customers and increase conversions with our Jewelry Marketing Services. Our clients are #1 with Google and we can provide the same results for your jewelry business.
You can't fix what you don't know!
4Spot Marketing is offering all independent retail jewelers the opportunity to get a FREE website analysis, as well as a FREE website search results ranking report. A technically sound website will help Google properly index your information, which will help in your search results. The search results analysis will show where you currently rank for 20-30 key terms and phrases for your industry in your area.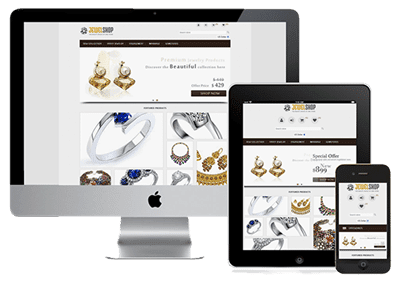 Do you dream of higher rankings, better conversions, and increased visibility?
Click the button below for a FREE, no-pressure marketing consultation with one of our jewelry industry online marketing experts!
SEO, CLICK-AD, AND WEBSITE SERVICES
Being seen on the Internet is the #1 way to gain new visitors to your website and your store. Unfortunately, many jewelers don't understand the myriad ways they can market online and end up wasting money. They think that simply by having a website up and running, people will find them. The days of "Build It and They Will Come" are over.
PPC Management and Analysis
Relevant and high-priority goals
Improving the structure of the campaign as well as its efficiency and reach of audience
Improving the Quality Score and addressing the correct areas of problems
Identifying and acting based upon the most relevant search trends as well as execution of accurate keyword analysis
Delivering highly qualified traffic which results in particularly higher conversion rates
Continuous daily monitoring of the performance of your keywords
Evaluating and adding of new keywords and removing ones which are not productive on a monthly basis
Monitoring the pre-set budgets
Google Remarketing
Extensive and comprehensive research of keywords
Development and continuous analysis of individual ads
Research and creation of expert ad copy
Listings in Google Search, mobile networks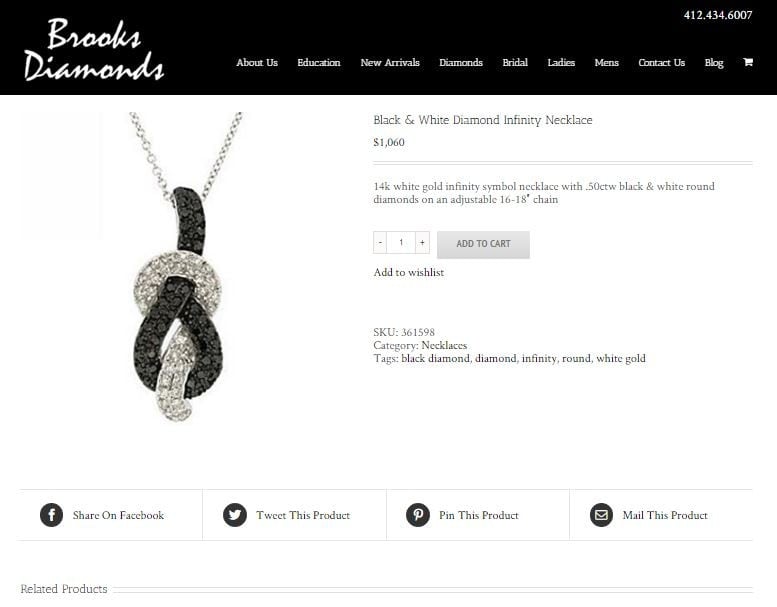 Project Description
Brooks Diamonds in Pittsburgh was struggling with managing their archaic online store. The products were very difficult to administer on the back-end and they didn't display well on the front end. They engaged 4Spot Marketing to develop a comprehensive ecommerce website. They were afraid of fraud on large purchases, so we implemented a process to allow a maximum online purchase of only $500, with other purchases being advised to call the store to purchase. They are thrilled with the ease of managing their inventory and with the overall look and feel of the website.
Project Description
This is a pretty standard uDesign-based website, however it does utilize the pseudo-ecommerce features (meaning that it has just about everything that an ecommerce site would have except for the payment capabilities).
The one minor unique item that we did on this site was to design an interim landing page when you click on 'bridal jewelry'. Instead of going directly to the inventory, the client wanted us to create a landing page that had some nice imagery.
The live site can be seen here.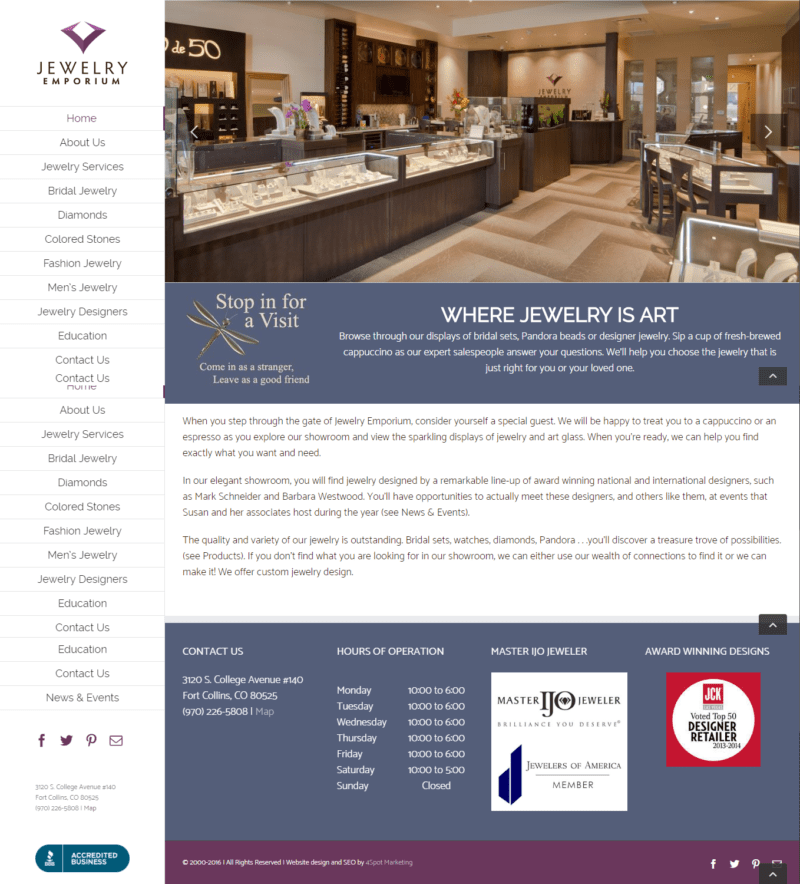 Another 4Spot Marketing Jewelry SEO Success Story
I've been working with Jeff Arnold and 4Spot Marketing for about 18 months and couldn't be happier.
I've dealt with several people in the website development and management business, however none that gave me the level of service, consulting and quick replies that Jeff and his team does.
In addition, within two weeks of the launch of our new website, my rankings all went to #1 in Google and we haven't looked back!
I highly recommend 4Spot Marketing for a small business person who wants a great web and/or internet marketing partner.
We have been working with Jeff and his team for the past four years. The experience has been nothing short of fantastic for everything we've done with them. Excellent service, excellent price, and excellent people. Our site is now SEO optimized and the new, mobile platform works great with today's consumers.

We would absolutely recommend their services.
4 Spot marketing just completed our website and I am very happy with results… Jeff worked closely with me and made all of the changes that I bothered him everyday with.. He was easy to work with and we are still working with little things I want to add or change and he completes them quickly. My SEO is better with my new website as well. I would highly recommend 4 Spot Marketing to build a website.. They do a great job!