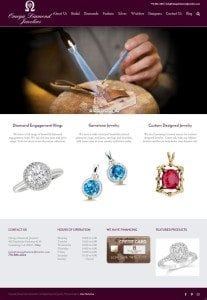 No matter how skilled you are or how great you may think that your jewelry website design or jewelry marketing techniques, everyone runs into a wall eventually. The only way over this wall is to increase your website's search engine optimization. While this can sound like a scary, complex term to some, search engine optimization is actually a much simple concept than it seems to be. Let's take a look at three ideas that will increase your jewelry marketing might.
Jewelry Website Design
Consider The Needs Of The Reader
Search engine optimization is great, but it only works when the marketing for jewelers focuses on what the reader needs to know, as opposed to writing for the benefit of search engines. Popular search engines such as Google have been equipped with powerful algorithms. These algorithms will push a website's ranking down much lower and can tell when a jewelry website design has been artificially stuffed with keywords.
While it is great to add certain keywords to your jewelry website layout in order to execute your jewelry marketing plan, marketing for jewelers is not as simple as tacking on a few extra words. You must make sure that the information you are providing will meet the needs of the reader. If you do not, they will simply take their business elsewhere.
Make Your Design Stand Out
No one wants to be bored to tears by black text against a plain white background. Search engine optimization is all about making your website unique and special, ensuring that it does not blend in with the crowd. Use colors that truly pop and write content that is engaging to the reader.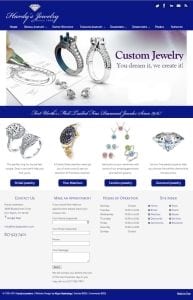 In many instances, we do not receive a second chance to make that all important first impression on people. A design that blends in is just another way of letting the consumer know that their needs do not come first. A pretty design is also not enough, you will need to make sure that there is no content on your site that has been duplicated from your own work or other sources.
Update The Site Often
Once you have successfully hooked a browser and they have fallen into the routine of checking your website on a consistent basis, this is not the time to rest on your laurels. Instead, you should be focusing on continuously adding fresh and engaging content. The content should always be relevant to the consumer's needs and focus on providing them with information that they did not already know.
The same algorithms that adversely affect your website's search engine ranking also come into play when it comes to your content. If you are not updating your site often enough, it will typically slide down the rankings accordingly, so make sure you have a free ranking analysis performed annually.
Click Here to get more information about Jewelry Marketing